✨ The Power of an Image - and of our Index Finger! ✨
---
Hello there, and a very warm welcome to my first full newsletter of 2021. It is really lovely to have you here.
For those of you who are new to my weekly musings (or ramblings as certain family members like to call them!) you may wish to pop the kettle on and put your feet up to read it as these emails are generally most like an essay than a tweet! However I do always section off the main wellbeing activity, so that you can easily skip to the nitty gritty.
Last week I was telling you about the work/study nests that I'd been helping my household menfolk with (our cat Fudge naturally creates her own cosy nests in the warmest and most inviting nooks in the house, so really we were just copying her!)
I feel very content in my own nest as I write this - because I've managed to retain the loveliest room in our house, my treatment room 😄 And as I'm not giving treatments during this lockdown, I've moved things around with a comfy chair to sit on (not one of my reclining LaFumas though or I'd literally spend all day relaxing!!) And my desk is a round dining table facing the garden, so I can watch the birds and squirrels as I type.
Do you have a nest or cosy nook to call your own in your house? If not then why not scope out the possibilities and channel your inner cat to find somewhere peaceful, warm and inviting.
---
Same journey, different experiences
When this pandemic first came crashing into our consciousness last year and we went into lockdown, it froze us in whatever household situation we were in when the restrictions came into force and then the same thing happened just before Christmas. So some of you will have a very full house, you may have a demanding new baby or toddler, children and/or teenagers, not to mention (grumpy?!) partners or a loved one to care for – so you could well be feeling frazzled and exhausted, fed up with juggling work and schooling/care duties and yearning for some peace and quiet.
Or maybe you find yourself at the opposite end, living alone with too much time on your hands, not enough connection to the outside world and longing for some noise, hustle & bustle and more structure to your days.
And of course you could fall anywhere between these two extremes.
Emotionally we can also be experiencing this pandemic quite differently, again dependant on our situation – we could be feeling annoyed or frustrated, worried and anxious, or just downright sad or hopeless and some of us will also be grieving for loved ones and friends taken too soon.
However the good news is that whatever your current situation or how you are feeling, I've got you covered. I'll be here in these emails as we walk this path together, journeying through this pandemic and looking for lightness, brightness and little moments of joy along the way.
---
Weekly activities and self-treatments
Each week I'll be suggesting a creative or wellbeing activity to try out and I'll also be showing you a simple self-treatment to do at home. And if you don't have a lot of time to yourself, then just reading about these potential activities can often give us a boost. So please don't feel that you need to add them to an already bulging "to-do" list, just pick out ones that you fancy.
When designing these activities, I'll be putting in a shortcut, so that there is always a quick option and I'll often add in an extended version for those who fancy spending more time on it. I always welcome feedback on anything you've found useful or anything that seems confusing or that you are not clear on. Plus if there are things you would like me to address via the activities or self-treatments then do just drop me an email.
---
This week's activity: Finding an image for the month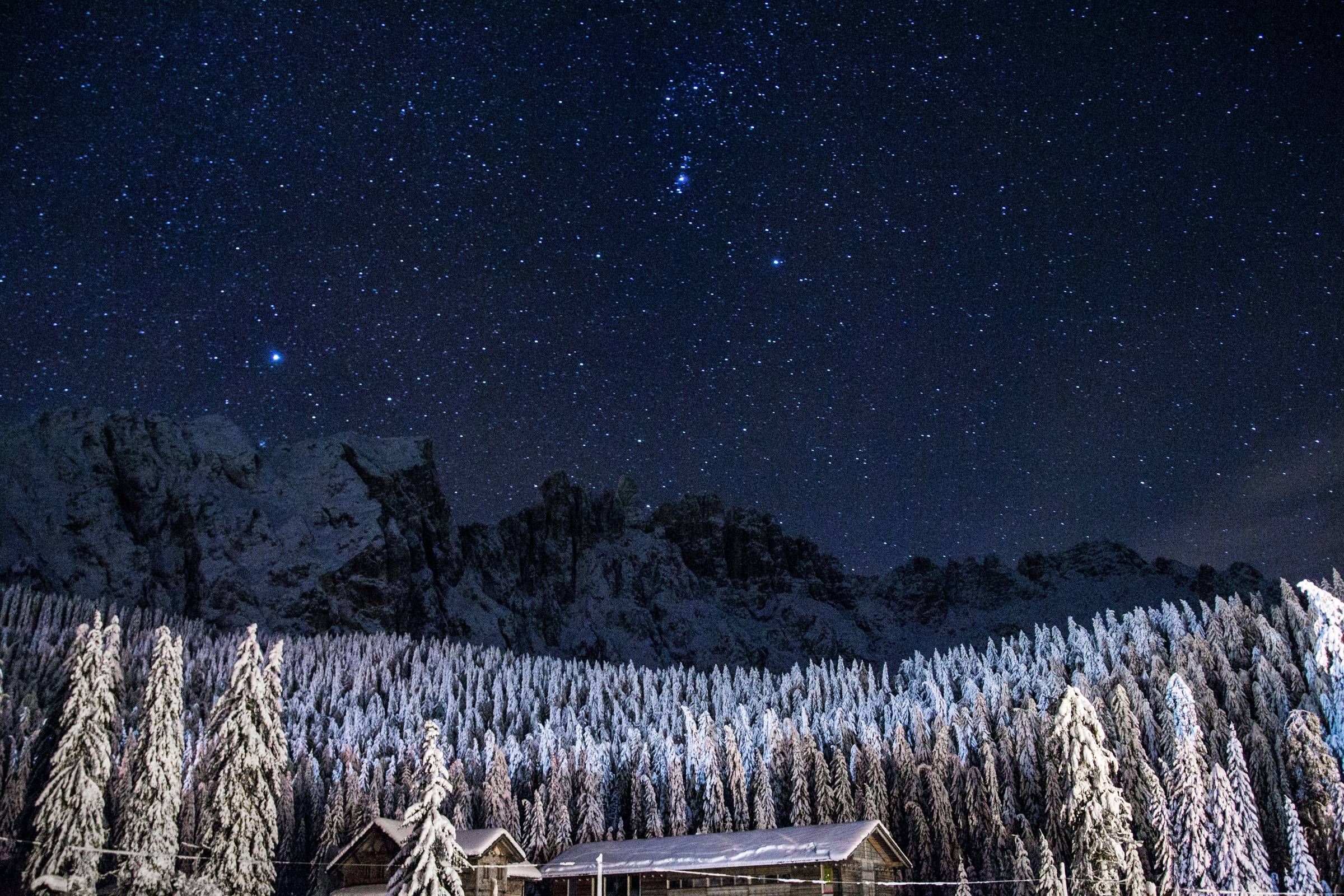 I'm kicking off with a fun little creative activity that you can have a play around with: searching online or through your photo library to find an image that will make you smile every time you see it this month.
Activity short cut. For those of you without a lot of spare time (hello did anyone say home-schooling/work juggling!), then if you like the starry sky image above that I've chosen for January, then you can get a copy of this image from me when you sign up to my newsletter (I got this image in December but it has now gone again from the Unsplash website). Then go to your settings on whatever device you want to display it on and set it up as your backdrop or screen saver – job done!!
Full version of this activity. If you have some time available then below are the 3 steps I would suggest for finding the perfect image for this month:
Have a look around your house at the calendars you own and the pictures and photos you have on display. Then ask yourself which ones make you smile or lift your spirits when you see them.
Now armed with the knowledge of what you already like, go online and have some fun searching for beautiful images. If you want to use free stock photos which have no copyright and are uploaded by photographers and artists for everyone to enjoy, then try my favourite free websites: unsplash, pixabay, pexels. Use search terms to bring up a selection of images e.g. "winter, nature", "night sky", "starry sky", "birds winter", "happy woman, nature", "calm, landscape" and before you know it you will be off down a rabbit hole and spending many a happy hour looking at pictures. Equally you might decide to choose a family photo that you absolutely love, scan it or take a photo of it if necessary so that you can display it digitally.
Download the image of your choice onto your device and then go to settings and choose it as your screensaver and/or backdrop.
If you need some help narrowing your images down, take a look at my top tips below.
Top Tips for your image selection
Consider where you are going to display this image – if on a laptop/desktop then look for landscape rectangular images. However if you are putting it on a phone or tablet you can concentrate on portrait images or ones that can be cropped to still look fabulous when portrait.
Take a moment to consider how you are currently feeling before selecting an image. Overwhelmed & frazzled? – look for a calming, soothing image. Annoyed, irritated or frustrated? – look for cooling, nature images. Low mood, sad or hopelessness? – look for an uplifting, inspiring, joyful image. You can then use these positive words in your image search terms.
Or you can think about how you would like January to look and feel. For example, for some a winter tree stripped bare of all its leaves is a thing of beauty, to others this may feel too stark.
Choose a type of picture that you truly love – be it nature, animals, seasonal, a family photo, a tropical beach – the only rule I would suggest you follow is that it be an image that makes you feel better, not one that leaves you feeling the same and certainly not one that leaves you feeling worse! What inspires each of us is likely to vary widely.
Offline alternative. If you don't fancy going online in your search then you can locate your favourite photo/painting hanging on a wall or tucked away in a box and give it a brand new home - somewhere where you will see and admire it every day this month.
Activity Extension . You can go beyond January and start selecting images for other months of the year and pop them in a folder for when you need them. Or you could select 12 images and get them printed out as an actual paper calendar.
I'll be sharing my own image choice each month, so you can simply download this each time. It will also act as a prompt if you want to search for a new image of your own. By regularly changing the image we are more likely to fully "see" it, rather than it just blending into the background after a while – as our mind does love shiny, new objects!!
If you do find a beautiful image, do feel free to share it with me, it will be lovely to see what has inspired you.
---
The inspiration behind this activity
It all came about when I realised how many calendars we had dotted around our house in 2020 (6 for the record, including one each in the boys' rooms). Now this felt somewhat excessive, especially when we didn't really refer to the monthly calendar portion very often! Our themes were: natural landscapes, llamas, interior design, British wildlife, hedgehogs and Game of Thrones! When I discussed getting new ones with my menfolk, we realised that what we really all liked about the calendars was having a new picture every month. So we've decided to put up some new photos and posters instead of multiple calendars this year and just have one 2021 year planner (which happily is the last page of my 2020 llama calendar so comes with a picture of my favourite creature!).
We also now have a digital image of the month on our desktop/laptops. Mine is the starry sky image above and is the backdrop on my computer for January.
---
Self-treatment suggestion
All you need to do is to hold your index finger. That's all - it's that simple.
Just wrap the fingers of one hand around the index finger of the other. No pressure (or death grip!) is required, just a gentle and comforting contact between your hands as shown in the photo. Then allow your shoulders to drop and relax your hands in front of you or in your lap. You can choose to hold either index finger and don't need to do one side and then the other, unless you want to.
This is the perfect finger to hold when watching the news, as it helps us to let go of the stressful words & images, rather than carrying them round all day. Especially after those news stories that focus on lack (e.g. lack of space in hospital, lack of compliance, lack of common sense in some politicians etc). Each time we exhale we have the opportunity to let go of these stresses (or the "dirt, dust & greasy grime" as it's referred to in traditional Jin Shin Jyutsu). Releasing this tension then creates space for us to receive and to notice the abundance of happiness and laughter that is present around us - just holding your index finger can help facilitate all of this, even when we are not consciously focusing on it.
This finger hold is very discrete, so every time your hands are free this week, just hold your index finger. You can't overdo this self-treatment, so you can come back to this hold multiple times a day. Little and often works really well, as does holding your finger for an hour or more watching TV or when on a work Zoom call.
From next week, I'm planning to pop in a short video to demonstrate and explain each self-treatment - so for those of you who have no idea what these finger and upcoming body holds are all about, it should then become much clearer!
If you'd like your very own copy of this finger hold picture, then simply sign up to my newsletters and you'll be able to download a copy.
---
And finally …
I hope that you've enjoyed this email and I wish you lots of fun finding and displaying a beautiful image for January. And do give holding your index finger a go this week (even if you're not sure why you're doing it!) and know that I'll be holding mine a lot too.
Wishing you a lovely weekend, however you spend it.
With much love
Rosanna